Orbital Shaking Incubator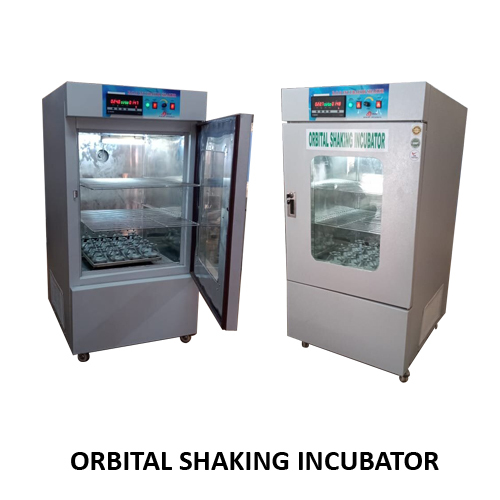 Orbital Shaking Incubator
Product Description
AOSI-184 ORBITAL SHAKING INCUBATORS (MICROPROCESSOR BASED)
Such a set up is most useful for growing cultures of micro-organism and tissue cells under controlled condition of temperature and agitation. The variable speed platform containing samples is set into the circular motion in a horizontal plane, which ensure uniform mixing, minimizes accretion of material on the side of the flasks and provides good transfer of gas to the culture and acids undue buffeting on the organism and cells. The outer chamber is made up of M.S. sheet duly painted and inner chamber of thick S.Steel Sheet. The gap between two wall is filled with high grade glass wool to avoid thermal loss.

The plexi glass inner door or glass window on front side makes it possible to inspect the specimen without disturbing the inner temperature. The lid of chest type unit is fitted with florescent tubes on the inner side. The unit has a Temperature range from 5 degree Celsius above ambient to 50 degree Celsius to 60 degree. And is controlled by with SOLID STATE DIGITAL TEMPERATURE INDICATOR Cum Controller with an accuracy of +/- 0.5 degree Celsius. When the tube light are ON temperature range is from 10 degree to 50 degree C. Air circulation fan is fitted to maintain temperature uniformity throughout. Cyclic illuminations condition are the controlled by an automatic time (0-24 hrs) fitted to the unit. It is fitted with DIGITAL SPEED METER (RPM COUNTER) for the shaking platform having VARIABLE SPEED. Hermetically sealed compressor is fitted to the unit for efficient cooling. To work on 220/230 volts A.C. Supply. THe shaker has variable speed and one plateform containing 16 flask of 500 ml or 25 flask of 250 ml. or 40 flask of 100 ml or 34 flask of 150 ml capacity, is supplied with the unit as standard accessory. Plate form size 450x450x450 mm
Temperature range from 5C to 60C
Size 600x600x600 mm
Body made of thick Mild steel duly powder coating painted. Inner chamber made of Stainless sheet 304 quality.Shaking platform can accommodate 9 & 16 flask of 250 / 500ml or 25 flask or 100ml or 36 flask of 50ml Temperature range from 5 to 70C is controlled by Microprocessor PID controller with an accuracy of 0.5 C. Provided fitted with air circulation fan for temperature uniformity. Competitive high shaking speed 30-300 rpm. Fitted with LED light inside the chamber. Work in 220 / 230 v. AC supply.

Plate form size: 300x300 mm (cap.110 liter) for 9 flak of 250 ml

Plate form size: 450x450 mm (cap.200 liter) for 12 flak of 250 ml

Plate form size: 600x600 mm (cap.250 liter) for 16 flak of 250 ml
Contact Us
House No: A-1/345, Street No.-15, Som Bazar South Gamri Extn., Delhi, Delhi, 110053, India
Phone :+918037745071