Mild Steel Autoclave Vertical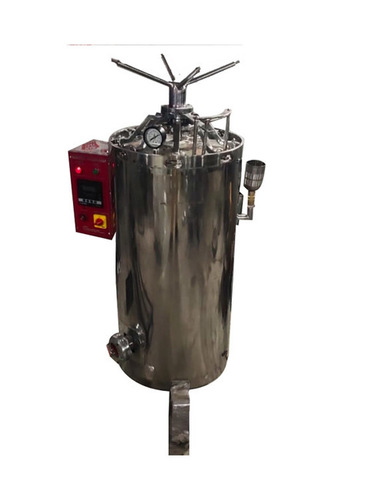 Mild Steel Autoclave Vertical
Product Description
AVMS-101 AUTOCLAVEVERTICAL (MILD STEEL)
Outer body madeofthick mild steel sheet finished with oven backed powder coated paints. Innerchamber is made of thick stainless steel. The chamber is absolutely leak proofand can be operated at any selected point in between 5 to 20 psi per sq/inch.It is equipped with pressure release valve, safety valve, water level indicatorand perforated stainless steel basket complete with cord and plug. The lid ismade of thick mild steel with stainless steel lined covered sheet with radiallocking arrangement to work on 220 volts A.C. Main.
| | | |
| --- | --- | --- |
| DIA x Height | CAPACITY | LOAD |
| 250x450 mm | 22 liter | 2 KW |
| 300x500 mm | 36 liter | 3 KW |
| 350x550 mm | 50 liter | 3 KW |
| 400x600 mm | 75 liter | 4 KW |
| 450x600 mm | 98 liter | 4 KW |
| 550x750 mm | 152 liter | 6 KW |
AVMS-102 AUTOCLAVEVERTICAL Deluxe Model (Outer & Inner S. Steel) As per ISISpecification
It is used for sterilization under saturated steam pressureat any selected point between 10 to 20 Psi adjustable. These are double walledunits with inner chamber made of 16 S.W.G. stainless steel and outer chamber is covered with S.S. Lid is tightened byradial locking system. Fitted with silicon rubber gasket. All system ishydraulically tested up to 40 Psi as a safety measures. All autoclave arefitted with standard accessories such as water level indicator, pressure gauge,Steam release cock, spring loaded safety valve, and heating element. Suppliedcomplete with S.S. Basket cord and plugto work on 220 volts A.C. supply.
All DELUXE MODELS besides being fitted with stainless steelLID and having inner chamber made of S.S. and outer chamber covered withstainless steel are also fitted with VACCUM BREAKER as a safety device.
OPETIONAL ACCESSORIESIF REQUIRED AT AN EXTRA CAT. NO. AVMS-101& 102
| | |
| --- | --- |
| a. | AUTOMATIC PRESSURE CONTROL SWITCH |
| b. | AUTOMATIC WATER CUT OFF DEVICE |
| c. | MANUAL TIMER 0 to 60 MINUTE |
| d. | DIGITAL TEMP: CONTROLLER |
| e. | DIGITAL TEMP: CONTROLLER CUM TIMER |
NEOPRENERUBBER GASKET:
| | | | | | | |
| --- | --- | --- | --- | --- | --- | --- |
| DIA | 250mm | 300mm | 350mm | 400mm | 450mm | 550mm |
SPAREHEATING ELEMENT FOR DOUBLE WALL
| | | | | |
| --- | --- | --- | --- | --- |
| CAPACITY | 2 K.W. | 3 K.W. | 4 K.W. | 6 K.W. |
Contact Us
House No: A-1/345, Street No.-15, Som Bazar South Gamri Extn., Delhi, Delhi, 110053, India
Phone :+918037745071